Past Event: Trials of Sol-lune
[Panel] Event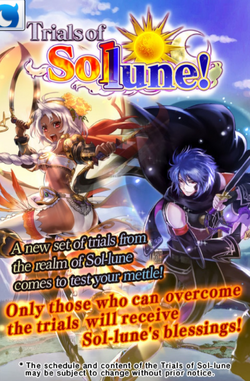 Schedule
February 28th - March 8th, 2013 at 2:00am PST/PDT.
Rank Rewards
201st - 300th

Premium Ticket x5
Time Elixir (P) x5
301st - 500th

Premium Ticket x4
Time Elixir (P) x4
501st - 1000th

Premium Ticket x3
Time Elixir (P) x2
1001st - 2000th

Premium Ticket x2
Time Elixir (P) x1
BT Point Rewards
5000 BT Pts - 2000 Brave Pts
10000 BT Pts - Moon Ticket x2
15000 BT Pts - 15000 Luna
20000 BT Pts - Potion (P) x1
30000 BT Pts - Time Elixir (P) x1
45000 BT Pts - 3000 Brave Pts
60000 BT Pts - 50000 Luna
80000 BT Pts - Max the Spellsword (4★)
100000 BT Pts - Potion x3
130000 BT Pts - Time Elixir x3
160000 BT Pts - Premium Ticket x3
330000 BT Pts - 4★ Plus Ticket x1
650000 BT Pts - Dermond the Assassin of the Moon (5★)
1300000 BT Pts - Matahari the Warrior of the Sun (6★)
Every 200000 BT Points afterwards will earn you Premium Ticket x1
Panel Rewards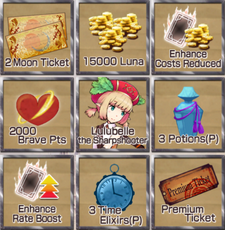 Ad blocker interference detected!
Wikia is a free-to-use site that makes money from advertising. We have a modified experience for viewers using ad blockers

Wikia is not accessible if you've made further modifications. Remove the custom ad blocker rule(s) and the page will load as expected.